Feel the pain! Feel the blades…
Yap, managed to get 4 Dark Eldar Kabalite Warriors all done up. I was pushing hard and squeezing time to get at least half a squad completed. My order of Dark Eldar Raider came delivered on Monday from Wayland games. I was expecting it to be delivered by end of this week, but it came earlier this week than expected. Motivated, I speed up my Dark Eldar painting. Still only managed to get 4 done up. Still have another 5 more to go. Definitely will try to drive myself harder as my Dark Eldar Raider is waiting to be assembled and painted to transport my 10 Kabalite warriors.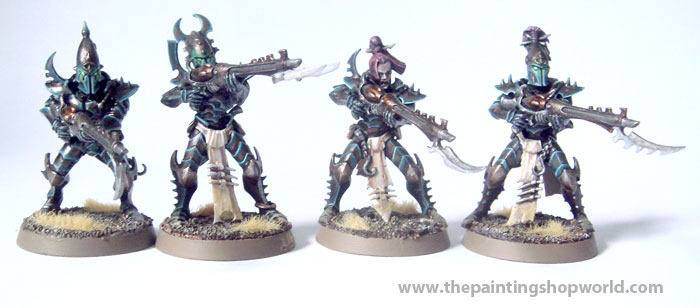 Above picture with my first painted Dark Eldar Kabalite Warrior in the back, which I painted for the Spiky Bits contest. The contest I only managed to stand in the third place among the votes. I have a tutorial on how I achieved the colour of my Dark Eldar Kabalite Warrior here.
In the first painted Dark Eldar Kabalite Warrior, the base armour colour I mixed Citadel Tin Bitz with Chaos Black to achieve a darker tone of Tin Bitz. For the current squad, I started of with Citadel Tin Bitz, then had a wash of Badab Black to darken the Tin Bitz. This save time mixing the darker tone of Tin Bitz. The overall look and feel is still the same as my first painted dark Eldar.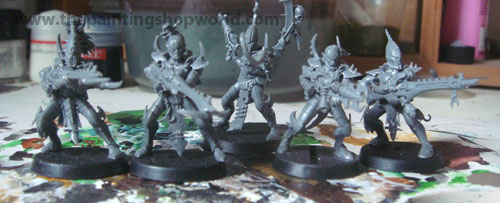 5 more Dark Eldar Kabalite Warriors to go… and Grey Knights are on the way soon, so much to paint… haha, Cheers!
Updates : Finally got all 10 Dark Eldar Kabalite Warriors all done up. Check it out here…