Do you need any miniature painting help?
Did you wish you could speed up learning how to paint miniature?
Have you been searching for a more visual base miniature painting guide to help you or get started?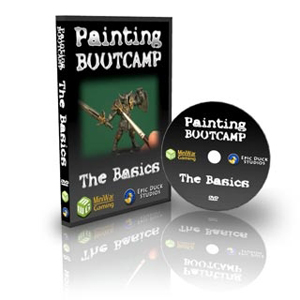 If you have been searching for miniature painting help or trying to get started into world of miniature painting, but you find that reading an ebook is not your cup of tea, then an exciting video tutorial would definitely suit you to help you kick start.
Mini Wargaming's Painting Bootcamp, The Basics, is a video tutorial that would help you get started into the exciting hobby of miniature painting. If you have been browsing and reading up many articles tutorial on the internet, where they explained various techniques to paint in words, but you never seem to understand what they are explaining in the article tutorial, then video is the answer.
With video, suddenly you feel that you finally see the light, and totally understand the techniques that is explained. The video will explain and demostrate the techniques clearly which will allow you to understand completely and the ability to speed up learning how to paint miniature is greatly enhanced as well!
The videos on this tutorial DVD will cover:
Drybrushing
Using Washes
Highlighting
Cloaks and Layers
Painting Faces
Complete Model Start-to-Finish
plus Metallics
and Getting Started
space
Well, as I say, if ebooks and articles are not your learning style, then I strongly recommend tutorial video to aid you in your quest to speed up learning how to paint miniatures and get started.
Wait no longer, at the price of US$19.95, it is worth investing in this good tutorial DVD to help you get started straight away. It will save you plenty of time spent from searching and scouting all the information from the internet. The time is better spend watching the miniature painting tutorial and putting the knowledges and skills to practice. Soon in no time you will see yourself painting magnificent miniatures and all ready for battle!
Like I always say in my post or the Warhammer 40k post… FOR THE EMPEROR! Pick up the DVD, turn on your TV… and you could be painting in no time… Cheers!