Do you need any miniature painting help?
Did you wish you could speed up learning how to paint miniature?
Have you been searching for a miniature painting guide to help you or get started?
space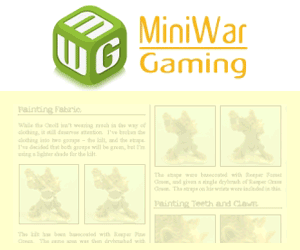 Is that one of the question you have been asking? So many questions, I guess if you have been searching for a fantastic miniature painting help or ebook to get quickly started in miniature painting, then I would say, hang around and read on…
I have been painting miniature since 2001, and a lot of my painting skills and knowledge is learned from practice, experiments, trials and errors. If you have been looking for a miniature painting ebook or guide to help you started, I guess there isnt much choice of a ebook or guide around online, but mostly there are many information scatter around all over many websites.
With all the searches online, I have found the Mini Wargaming Miniature Painting Guide to be among the best option. If you are looking to speed up the learning curve to miniature painting, or trying to get started into the world of miniature painting, then this ebook will definitely be the best help you can get to achieve that mission. Instead of searching and browsing websites all over the internet, the Mini Wargaming Miniature Painting Guide will be a one stop information centre complied into a ebook where you can attain all the skills and knowledge you need to become a become a better painter and help you get started into this passionate hobby.
The ebook will teaches you techniques that will speed you up to get better painted miniatures, or will bring you to a better and higher level of painting skills. It includes sections on how to paint
skin
eyes
fur
hair
armor
metal
…and everything you need to get started into the world painting miniatures and kick start your new passionate hobby.
Even if you have been already experienced and into painting miniatures, this ebook will help to add on your experience and will offer you to learn a few extra new painting tips as well. No harm adding on to your skills and experience, right? I feel that it will definitely be a good reference for your passionate miniature painting hobby, just as I am passionate about painting miniatures.
The ebook is priced at CA$19.95. Personally, I think this price is a steal, if you compare it to those big pictorial painting books by the big players in the miniature world. If you have been scouting all over the internet to learn and gather all the information about miniature painting, you would have spend a of time and effort trying to understand and digesting all the scattered knowledge. With all the necessary information complied into a fantasic ebook, everything you need to get started are guided and explained, and this would have saved you the large amount of time you have been spend gathering all the information. With a price like CA$19.95, and the time you would have saved which would allow you to get started straight away, isnt it a good deal? Besides, Mini Wargaming always has various exciting promotions now and then.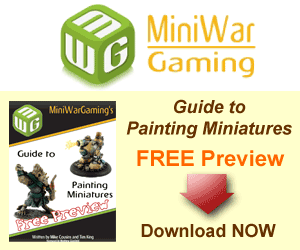 You can check out the preview for the Miniature Painting ebook here, or click on the banner above. If you are sure and jumping with excitement to get started, look no further, invest in a good miniature painting guide and your painting skills earned will stay with you for life…

Like I always say in my post or the Warhammer 40k post… FOR THE EMPEROR! Pick up the ebook and brushes, and start painting… Cheers!