Yes… the first chapter for my Flames of War! Or rather second, first was my Blood Guts and Glory book. My order of Flames of War Achtung starter set has finally arrived from Wayland. Guess with Wayland moving and shifting, it did took a little longer than usual, but still no worries.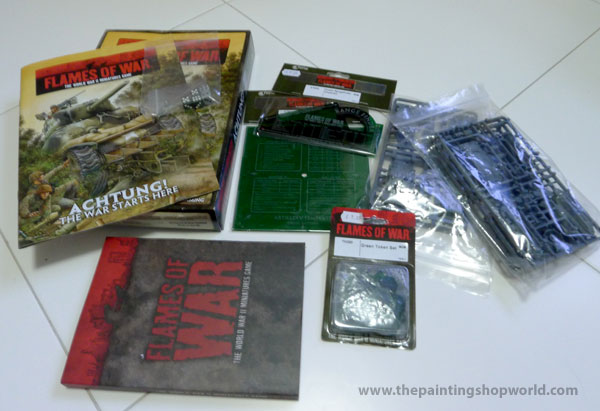 I ordered the Achtung set, token set, rangefinder and the artillery template. All the necessary tools and such to kick start playing Flames of War. The mini rule book is pretty handy I must say, would be easy to carry around for reading and learning Flames of War. But sad to say, my copy had a small scratch dent peel on the cover, battle damage! I will have it wrapped up and have its armour upgraded, haha!
The starter set came with 3 US Sherman and 2 German Stug. The moulding for the tanks look good, with very minor mould lines and flashes. The plastic is solid and having a firm feel to it. The details on the tanks are cool and amazing. The US tank commander is very finely detailed at a 15mm miniature I must say, and he has a mustache! Definitely looking forward to painting them. The German tank look good too… oh no…
Next order to be and on way would be the my US army tanks. Cheers!