In my earlier post, my Ogre Maneater Pirate was holding an old rusty anchor. I painted the anchor with a rust effect. Thought I show you how I manage to paint the rust effect.
For the anchor, it is painted with a base of Citadel Scorched Brown, after the usual base coat black. I am using a Games Workshop stippling brush to work on the effect from here. You don't to use a GW stippling brush, but any suitable size old brush that are stiff bristles could do the job as well.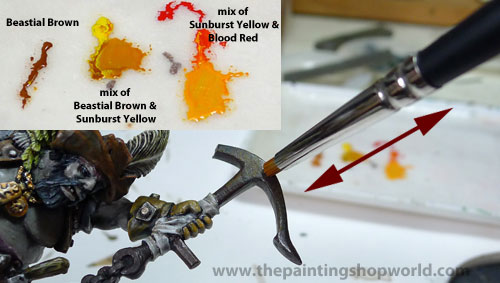 Start off with Citadel Beastial Brown with the stippling brush in a up down poking motion. Once dried, I mixed Citadel Beastial Brown with Sunburst Yellow, and followed with the stippling brush action. Finally, last round of stippling action is done with a mix of Citadel Sunburst Yellow and Blood Red. And there you have it, a rust effect with a simple stippling action. You can add more effect with dry brush of Citadel Bolt Gunmetal at the edges to create worn off rust effect revealing the metal. Cheers!