Was just packing my stuff at my painting table and shelves, I just recalled I forgotten all about my autographed black library novels.
Few weeks back, Black Library author Graham McNeil was in Singapore. I managed to squeeze some time and got to the autograph session just in time. Brought my copies of Time of Legend – Legend of Sigmar for a autograph session. Graham autographed for me with the words, "For Sigmar and the Empire", "Defend the land of men" and "The dead shall rise"! Cool… I am so inspired.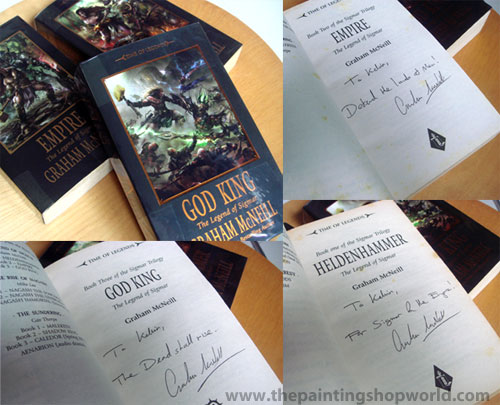 Though I have not read my Sigmar novel yet, but having it autographed probably will inspired me to read. Come to think of it, its been a while since I read a Black Library novel. Sigmar legend seems like a good choice to start. Anyway, Graham mentioned to me when he was writing the novel for Sigmar, he got the inspirations much from Conan. I thought that was a cool inspiration to know from the author and besides, Sigmar do have a warrior built and feel in him, and a God King!
For SIGMAR!