Yes, all my participating adventurers from Hasslefree miniatures are done up for the WAMP Hasslefree painting contest. Painting them was indeed a fun and different experience though. The difference was the adventurers were more like reality characters as compared to fantasy and science fiction. As the adventurers were sculpted with sort of modern-day clothings, I had fun trying to decide on a fashion colour scheme for the hasslefree miniatures. Went around online and reference clothing line for inspiration.
For Maria (below), I was inspired by the heel type boots sculpt. Decided to paint a pair of levi jeans (haha) with those brown yellow trimming at the sides. The heel boots were sort of inspired by light brown leather boots with dark brown heels. Her tee, I painted a M initial, which stands for her name, same like her belt buckle design. The base is a resin base from Hasslefree miniatures. She is standing across a step with small puddle of water between. The water effect I used Tamiya clear vanish, dropped a tiny drop and waited for it to dry. When dried, continue adding drops and repeat till a small puddle is formed.
Now, she turned around and looked into your eyes, with her pistol clocked, she asked, "you called?"
This is Summer (below). In my imagination, she is a tough cheerleader, forced to shoot some bad ass, or maybe zombies… haha. The pants and top was sort of inspired by the military colours with no camo patterns. I came across the movie poster I Am Number 4, where one of the female characters was dressed some sort like Summer, where her top was translucent, which semi reveal her black bra. Inspired to paint translucent transparent, I added a bra strap with green stuff on one side of her shoulder and painted her top translucent to reveal her black bra. First attempt at painting transparency, just felt ok with the result only, guess I will practice and experiment more, in more miniatures to come.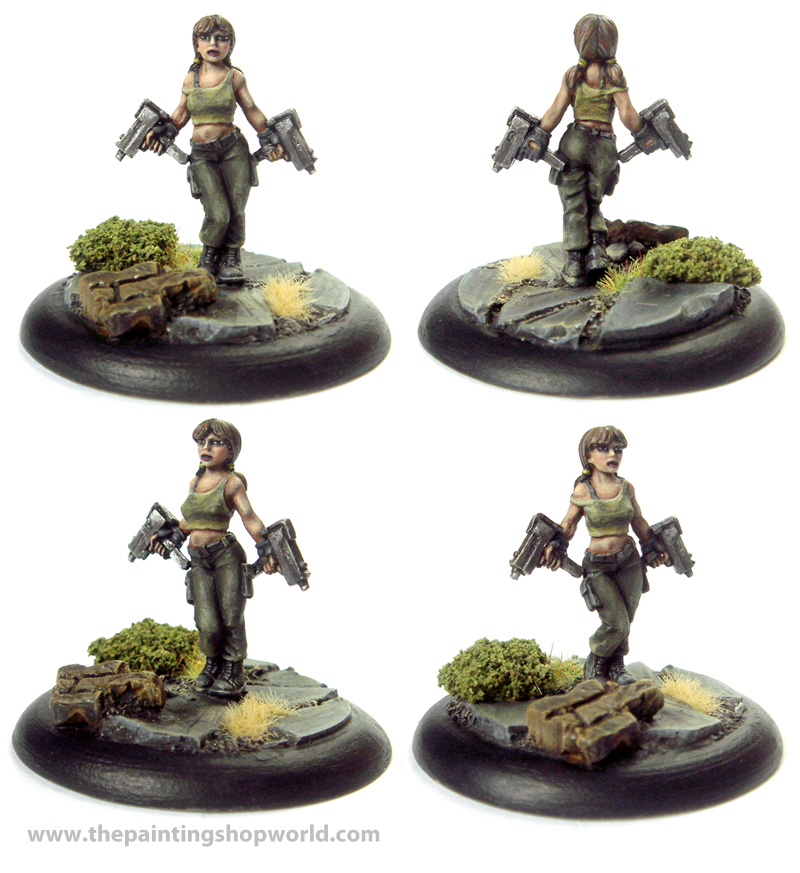 This is Sadie (below). She is exploring in an old ruin site. Last heard there were zombies in those old ruins. Armed with a uzi & silencer, she explored the ruins. Then she heard some rumble coming from an opening in one of the walls. The walls were old and there were skulls all over the sandy rocky ground. Sadie shined her light into the opening, and to her surprised, she saw a little gal standing in the darkness with a doll in her hands. She called onto the little girl, "Are you OK?" There was no response, in Sadie's mind… is she a zombie or an innocent scared child?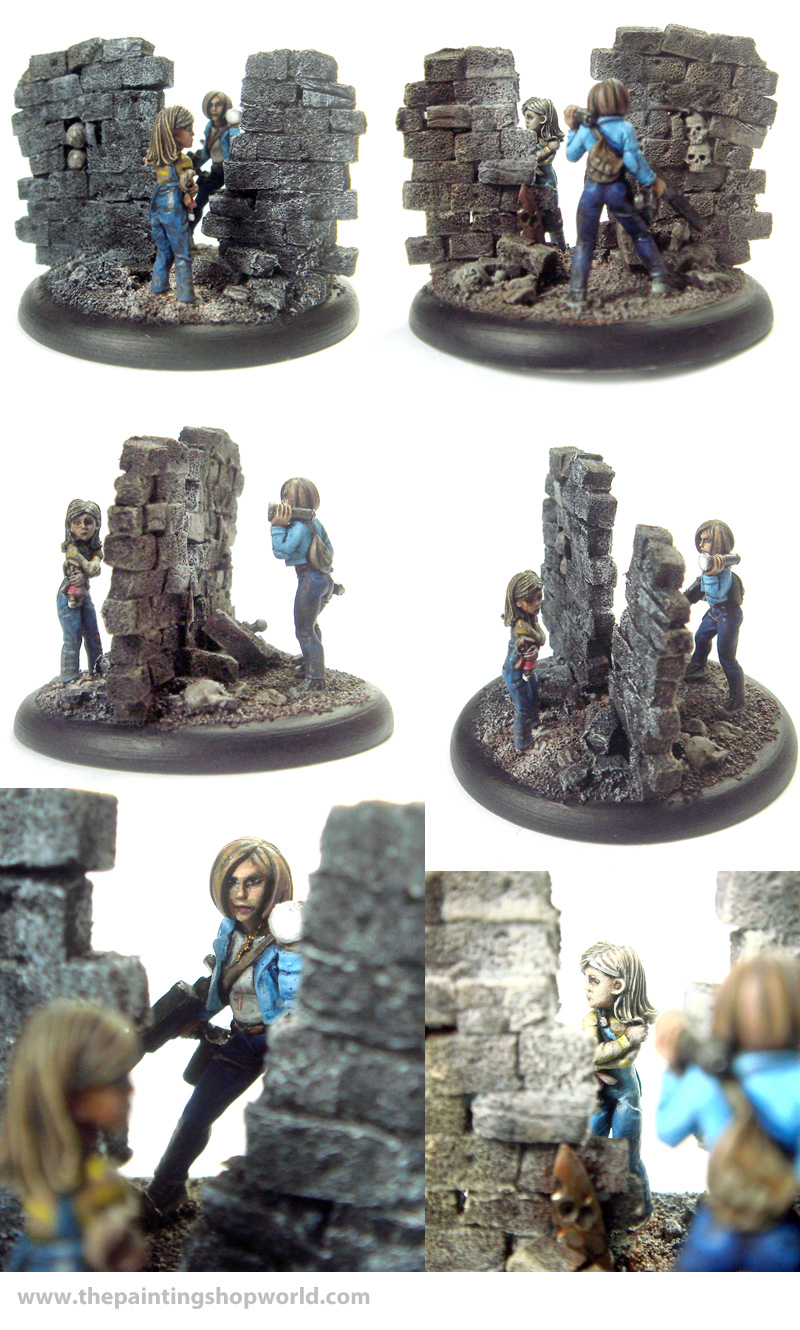 I sure had lots of fun building this diorama up. I had Sadie and the little girl Billie painted up first. The walls and ruins were built with blue foam. Cut the foam into tiny little brick size, proportion to the miniatures and build up the wall like construction. The only thing was when breeze blew by, my tiny foam bricks fly all over… haha.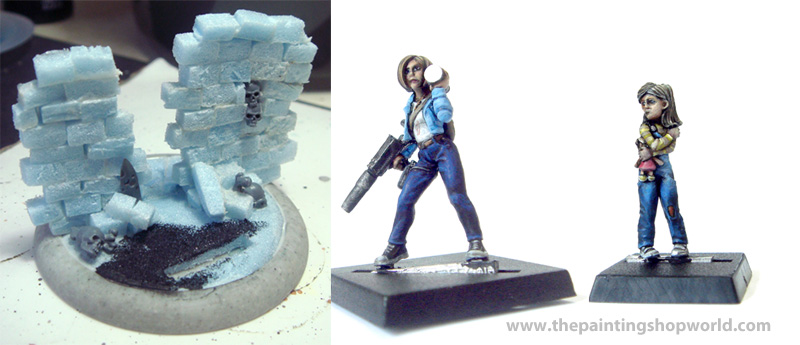 Painting these adventurers from Hasslefree miniatures was definitely a fun experience! And, my wargear magnifying glasses (see earlier post) sure helped a lot in painting the details. I still have another version of Maria to paint for collection, and 2 detectives I have in mind to paint up too. Really tempted to collect all the adventurers series in Hasslefree miniatures range, haha. Meantime, I will just wait for the contest results to come soon and, back to more painting! Cheers!