In miniature painting, the most often talked about topics would be new products, painting techniques, paints, materials and etc. Usually there isn't much talk about visual aid to the eye.
Well, if you are having good eyesight and everything is well, the most likely visual aid that you will need is probably a good table lamp, to get that good ample amount of light shining onto the miniature for painting. Naturally white light is the best choice without any compromise of visual colour to the painting.
Personally I am short-sighted and have been wearing glasses since the day I turn 12. Been a long time, many glasses have changed hands… haha. When I got into this hobby years ago, sitting under a good table lamp with good light source, would get me into a good painting session. Of recent years, my eye have developed long-sighted, when seeing near objects, my vision is blurred. Wa, this is definitely a sign of me getting old already, haha. So, nowadays each time I sit down and paint, besides getting paint colours ready, I switched my normal glasses to a long sighted glasses, or what they would call reading glasses. So much for having additional wargears… haha.
The other day I managed to get a visual aid that greatly help in miniature painting. I got a clip-on magnifying glass with led light accessory. It's a clip-on add-on to my existing glasses. So, each time when I paint, besides wearing my glasses, I clip on this magnifying accessory to my glasses, and switch on the led light.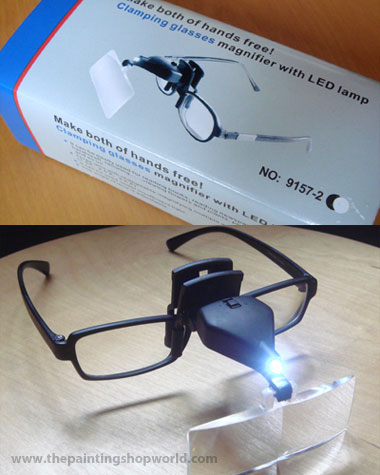 The clip-on comes with different level of magnifying glass, there's 1.5x, 2.5x and 3.5x. I tried most of them, the difference are slightly in magnification only. I settled for the 2.5x magnification for most of my painting session. With the clip on, the world suddenly seem so detailed and clear, I can paint any details with no strain to the eye. So far, I have been using it for the past few days, and the results are good. I am able to see the detailed areas in the miniatures, painting them is so much with ease. Painting eye and face details is even better and easier now, definitely with no strain to the eye.
This eye accessory definitely is a good help in miniature painting. With a clear visual, and additional led light, I am all set for more detailed painting challenges. Cheers!