In Aug issue of White Dwarf, there is preview of 2 new miniatures for Dark Eldar Archon retainers and bodyguards, Madusae and Ur-Ghul. Now that there will be miniatures for Madusae and Ur-Ghul, what about miniatures for Sslyth and Lhamaeans? Anyone knows of any old miniatures range or any pictures images for how these characters are like visually?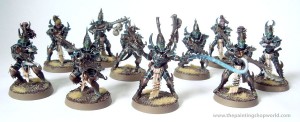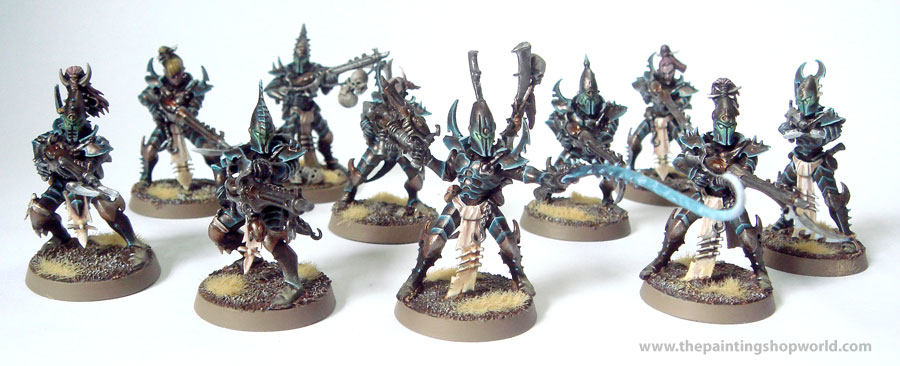 This brings me to the thought of assembling a Court of retainers and bodyguards for my Dark Eldar Archon. And, oh ya, my Dark Eldar Archon is still in process state since before the last order for the embargo. Wonder how long I have to wait? Guess also its cos of GW limiting of stock for finecast?
Looking at the options for the Court of Archon, seems like the better choice is forming an assault bodyguard range. For shooting, the max best range weapon choice is only from the Sslyth using a shardcarbine at range 18. The next option would be Medusae with it Eyeburst power using a template. Probably, the shooty guys will act as support fire after dismarking from the Raider before assault.
With assault, the Sslyth is the best choice of assault, with his strength 5 toughness 5, he's gonna smash through a lot of meat, thanks to his extra set of arms. The Ur-Ghuls will be his partner with strength 4 attacks. The Lhamaeans adds on to the fight with her poison attacks at 2 plus. Gosh these bodyguards gonna be kicking some butt.
so, my idea for a Court of Archon would be like these…
Archon, Blaster, Huskblade
1 Madusae
1 Lhamaeans
3 Sslyth
3 Ur-Ghuls
Total at 285 points, with an assault of 9 strength 5 attacks, 9 strength 4 attacks and Archon himself with the Huskblade, the Court of Archon is sure gonna kick a punch!
Another option would be to use Dark Eldar Vemon as a transport instead of Dark Eldar Raider. Bell of lost Souls has an article on the difference usage of Raider vs Vemon. If using a Dark Eldar Vemon, then forming the Court of Archon would be a pure assault squad power.
The Court of Archon on a Vemon would be like…
Archon, Blaster, Huskblade
1 Sslyth
3 Ur-Ghuls
1 Madusae
1 Lhamaeans
1 Sslyth
1 Ur-Ghuls
Speed up to enemies lines and disembark, lashing out 9 strength 5 attacks and 3 strength 4 attacks, sure will kick some punch!
Oh ya, thanks AbusePuppy for the comment. I mis-read about the 1-X number needed in the composition. Then I guess if transporting the Court of Archon on a Vemon is pretty limited, as all of each of the retainers and bodyguard are needed in the composition, and Vemon can only transport 5 passengers.
Anyone for a Court of Archon or any ideas and suggestions?