I have been experimenting and using chalk pastel to create those weather powder to do weathering effect on my warhammer miniatures and 40k tanks. I came across Tamiya also have weathering powder for their modeling range. Check out the various types of weather powder they have. I got the set item 87079 which include sand, light sand and mud colours. It cost about S$10 here in SG, as compared to the forgeworld ones, 1 bottle cost £2.75, about S$6. So, its 10 dollars for 3 colours vs 6 dollar for 1 colour.

The packaging sure looks like those make up powder for girls. It include a brush with one side sponge and the other side bristles. I figured that the sponge side of the brush will definitely wear out fast, so I went to cosmetic section at my local shopping mall to get some more of those sponge brushes applicators. The sale girl would definitely never have guessed that the applicators are for miniature modeling painting… haha.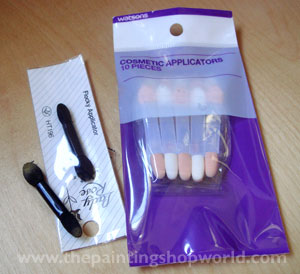 Stay tuned as I test out the Tamiya Weathering powder on my Warhammer 40k Daemonhunter Rhino.
FOR THE EMPEROR!