Did you wish you could speed up learning how to paint miniature?
Have you been searching for a miniature painting guide to help you or get started?
Have you been searching for a COMPLETE miniature painting guide that teaches from basic beginner to almighty EXPERT??
There are so many various kinds of miniature painting DVD, miniature painting tutorials and information about miniature painting all over the internet. I am sure sometimes you have wish that why isn't there any miniature painting videos or DVD that is packaged to teach you from the basic to the extreme expert.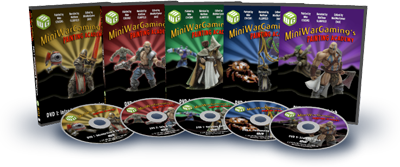 Your wish has come true! MiniWarGaming Painting Academy 5 DVD Set! Yes, this set of miniature painting DVD covers from literally the basic all the way to the Expert region. You really don't have to scout around for a beginner tutorial, then another video for a certain intermediate skills, then another when you have grown better and better.
With the MiniWarGaming Painting Academy 5 DVD Set, it has everything. Imagine how much time you would have saved, all the resources and information are all there, all ready to be viewed! It's like a complete school with all the classes you ever need, and you don't have to hop to different location to get other information or classess, all is right with you in the 5 miniature painting DVD set.
Yes, everyone agrees that practices make perfect, but with instructions from proper experts, you dont have to run around in circle to learn, but you will practice in the correct guided path straight away with no time wasted. And of course in due time, the apprentice will become the master of painting!
The DVD disc 1 covers the techniques from :-
– Cleaning, Pinning, and Magnetizing your Miniature
– Proper Priming
– Drybrushing
– Wet Blending and Highlighting
– Glazing
– Hair, Fur and Cloaks
– Metals, Armor, and more…
The DVD disc 2 will move you on to more advance techniques from :-
– Skin, Faces, and Eyes
– A super easy technique for getting awesome looking eyes every time
– The proper way to build realistic looking skin tone
– The secret to professional looking faces
– And even how to paint other color skin, such as with orcs and other creatures.
The DVD disc 3 will move you on to another advance techniques from :-
– Blending, Highlighting, and Layering
– How you can transition seamlessly from one color to an entirely different color, creating an awesome looking lighting effect
– How to properly paint different types of clothing
– How to paint difficult colors, such as reds, whites, and blacks
The DVD disc 4 will move you on to another advance techniques from :-
– Free-handing
– The simple secrets of free-handing any details on a banner
– How to easily add organic detail to animals
– How to freehand impressive details on the skin of your models, such as tattoos, symbols, and more
The DVD disc 5 concludes all the techniques acquired from all the disc.
– These techniques are demonstrated in miniatures painted from start to finish.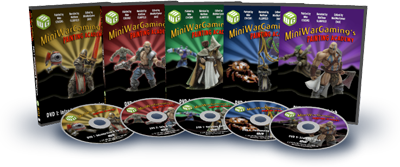 With the amount of time you could have saved from searching online, websites and books on how to paint from start to expert, at only $49.95, there is no time to hesitate at all, it's the best thing that can happen. Grab it now and in no time, we will see a miniature painting master in the making, with many awards!