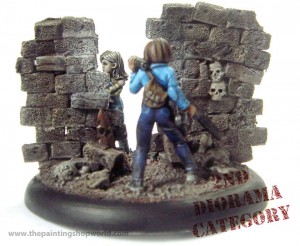 Yes… Hasslefree painting contest 2011 result is out. I was surprised to be able to clinch a 2nd place in Diorama category with Sadie and Billie. Summer and Maria did not napped any prize though. Check out the first place, where one of the participants napped 1st in all the three categories… cool!
And, thanks you Hasslefree and WAMP!
Painting Hasslefree miniatures was definitely a good and fun experiences. The feeling and thought process is slightly different from painting a typical GW miniatures.
The main difference is, when painting a GW miniature, it usually bear the feeling of having a battle on the battlefield in the world of 40k and Warhammer. It is like it's geared in paint and ready for battle. In painting a Hasslefree miniature, it's not a sense of feeling of battle or wargamming, but its more of story telling.
As I was painting Sadie and Billie Diorama, the story of Sadie exploring the ruins, and stumbling upon Billie flooded my mind as strokes of paint lands on the miniatures. Looking at Hasslefree miniatures, it sort of will inspire a story in you, or you will inspire a story for the miniatures, than miniature painting begins. Well… I am definitely gonna cracked more stories and inspiration for next year 2012 contest. Cheers!