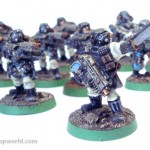 Though I am not so much into GW stuff of recent already, but the recent rumour and schedule line up for one of them really got me excited again, 40k Imperial Guards Stormtroopers!
Seems like the Stormtroopers will be in a box of plastic 5-man, which can be assembled as veteran or Stormtroopers. The Stormtroopers are definitely way overdued very long. Ever since the last Imperial Guards codex released, there was no mention of the Stormtroopers. I am a fan of the Stormtroopers. When Grey Knights got the Stormtroopers left out in the last codex, I was disappointed.
Now it seems like there is some hope for the Stormtroopers! Meantime, its time to save some gold coin for the Stormtroopers coming next year, as they don't come cheap from GW. Cheers!