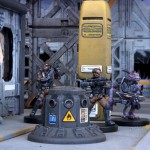 Wow, kickstarter Deadzone hits 1.2 million pledges! Another million dollars record-breaking Kickstarter campaign successful as the the earlier Kickstarter Kingdom Death.
It was only towards the end of the pledge deadline that I got more interested in Deadzone. With all the extras and unlocked options, I could not resist getting most of the essential things needed. It unexpectedly burned a hole in my pocket for this one, as I did not plan for this zone.
Well, I am definitely looking forward to play Deadzone, especially setting up the terrains on the matts. With the terrain and miniatures painted, it gonna be an awesome skirmish game of Deadzone! Oh no…. there is another Kickstarter brewing up, Kickstarter Raging Heroes!