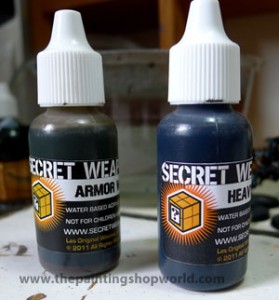 Bought the Secret Weapon wash the other time with my spend shell case order. Did not have a chance to use and test it out till now. First of all, its in a bottle form like some of the other brands of paint which is easy to use and store, along with little chance of spilling.
Shake the bottle well before use though. I left it on the table since the day I bought, I can see the wash having saturated layers forming. Giving a good shake before use, solves everything. Squeezed some wash out from the bottle onto my palette, I noticed that its more of a watery base. I took some shield bitz to test out the wash, at the same time comparing to GW's Citadel Badab Black.

The first two shield on the left are washed with the Secret Weapon ones. The right side one is washed with Citadel Badab Black. The Secret Weapon wash upon drying, has a slight shining or gloss feel to it. Compared to GW's which upon drying forms a soft matt feel to it. But the Secret Weapon Heavy Body black is definitely blacker then GW's. I think it will be very useful to wash tiny gaps and slots in armour and vehicles plates. I guess each has its own use, but I still prefer GW's matt feel than Secret Weapon's. So much for now, back to more painting. Cheers!