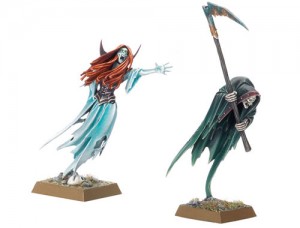 Vampire Counts have new releases and updated rules on new Cairn Wraith and Tomb Banshee. I was having the impression that the updated rules were for the rare unit choice for the Vampire Counts. But upon reading the details in the official rules in White Dwarf, it is stated as a Hero choice in a Vampire Count Army. Then what about the rare choice? Does it mean I can have a Cairn Wraith and/or Tomb Banshee as Hero choices, and also have a rare unit of Cairn Wraith? If you compare the stats for the Cairn Wraith, they are about the same, except the hero choice on having the special skills of Chill Grasp, for the cost of extra 10 more points. Any comments anyone?
Then, there is Hero Choice, this makes a stronger temptation for me to get these 2 new character hero. And, I guess I can only get these at my local Games store now, haha.
Comparing the sculpt for Cairn Wraith, I think the new Cairn Wraith is more updated as compared to the old ones. The new one having the swish feel like ghost swishing everywhere, like nowadays with ghost 3D animation movie. The old sculpt feel like old school of ghost floating across plains.
The new Tomb Banshee feels more updated with a vampire theme feel dress. The old Banshee feel more like a runaway Victorian bride ghost. Still, I am getting these 2 new characters for my Vampire Counts collection. Then the Garden of Morr, looks so cool! A cemetery in my own backyard, haha. But the problem is I have no more land in my Painting Shop to hold a cemetery! Haha!