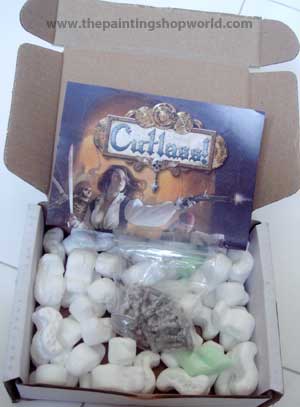 Yap, my Black Scorpion miniatures finally came in yesterday post. Pretty excited about it as now I have ample time to prepare for the Black Scorpion Golden Chef Painting contest. Deadline is extended till 25th July, so I have about a week and a half to finish up.
I have always wanted to paint a modern-day real US Marines miniature. I discovered Black Scorpion having the US Marines miniatures range months way back and have always been contemplating when to purchase and get some US Marines miniatures painted. Now, this is the chance, the contest is an opportunity to paint and as well a very good reason for me to buy the miniatures, haha.
Got a small squad of 5 US Marines consisting of 4 rifle Marines and 1 launcher Marines. Most probably will choose one of the Marines and get it painted for the contest. When the 5 US Marines are completed eventually, I will be planning to stand them in a small diorama.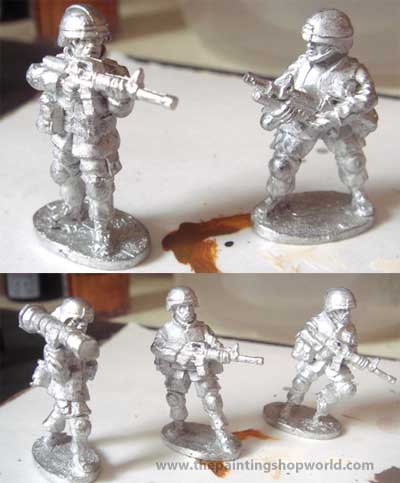 Some thoughts and impression of Black Scorpion miniatures so far… The miniatures were packed in a small sealed plastic pack bag among some packing foams. There isn't a box or packaging of sort for the miniatures. I wasn't wow about the packaging, thought it could be better to impress. The Marines miniatures sculpt are exactly what you would see from the online store. The details and sculpt are OK only, nothing to wow about. I guess getting it painted then probably the sculpt can stand out a little. Oh ya, the miniatures are not supplied with bases. Guess I am used to GW stuff where bases being supplied are in a standard package. Next for Black Scorpion miniatures, I am looking forward to the Pirates range, thinking of doing a small Pirate diorama, Aiya Captain!
Meantime, let me go do some research, dig out some bases and get some more painting done. Marines! Fall in…. Cheers!