Got my Dragon Forge Base from Jeff a while ago, thanks Jeff, really appreciate it a lot. Thought I do a review and first impression. Definitely looking forward to using them when I built my Empire Flagellant.
I got the basic ruins set from the Dragon Forge range. The ruins bases have slats of stone tiles and sanded ground. I imagined the terrain, like the bases, to surround maybe the worship place of the devoted Flagellant. So when the Flagellants are called upon to battle, they will marched from this sort of terrains, stone tiles and sands.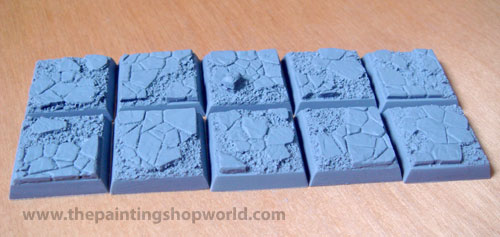 Upon opening the package, I must say I am impressed by the extremely fine details of the resin cast base. The stone tiles looked detailed and have that stone feel. There are fine grains of stone texture on the tiles design as well. I can imagined that if I dry brushed these stone tiles, the texture of the stone itself will definitely shine out revealing a very realistic textured effect.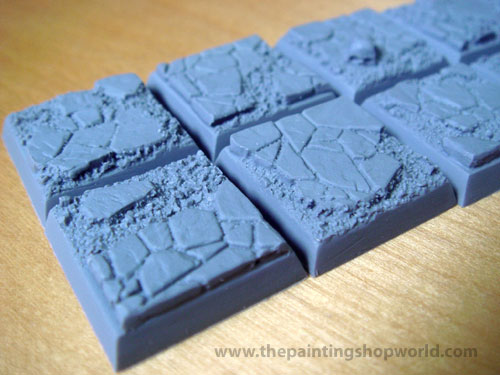 The sand grains on the base are very finely detailed as well. There are various size sand grains ranging from finest to a moderate level of sand details. I took a few grains of Games Workshop sand and drop it on the base to compare the finest of the sand grains. There very fine and detailed I must say, once dry brush, again, these details will definitely shine out.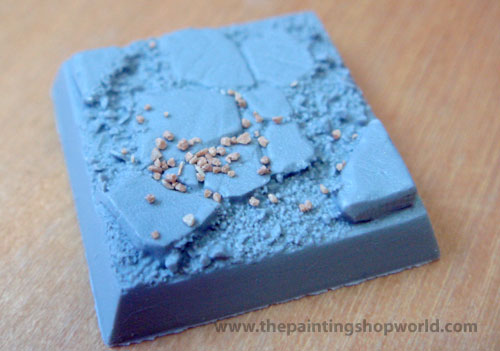 The base is made up of resin. As a resin base, once I picked it up, I can feel the weight of it. The base is completely a solid resin base, with no hollow fill at the bottom. Comparing to a standard Games Workshop base which is hollow at the bottom, the Dragon Forge base definitely has a solid feel to it.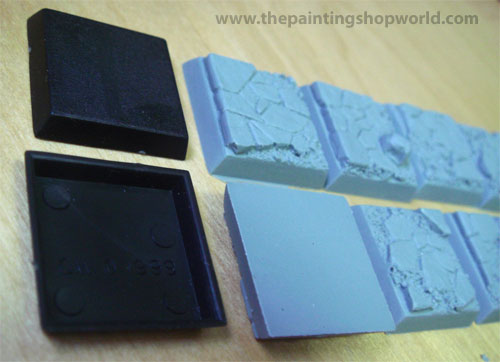 On the final thoughts, it has never really occurred to me to get bases for assembling up miniatures. I have always been using the standard GW bases all these years. But Dragon Forge base has definitely changed my mind and impression about having a good detailed cast base to highlight the miniatures. I will definitely be looking forward to getting more Dragon Forge bases for my future upcoming projects. But before that, definitely looking forward to getting it assemble with my Flagellant and painting it… Cheers!