Even after fixing my old dire wolves, still in a mood to assemble stuff. Started fishing some of the old stuff I can assemble.
Found my old metal Empire Steam tank. Mine is the old old metal version. As compared to the new version released not so long ago, the details in the newer version are better. And of course its plastic in the new version which makes it so much easier to assemble.
Had a tough time fixing up the metal block of steam tank. The metal parts are all poorly casted. Had to do a lot of filing and fixing. Gluing it was a also a mess, as the surface of the metal are not really flat,  end up with super glue stuck all over my fingers. Once all glued, next problem, there are gaps everywhere, took out the green stuff and patch up all the gaps. Wa… took me the long weekend to get it done and assembled.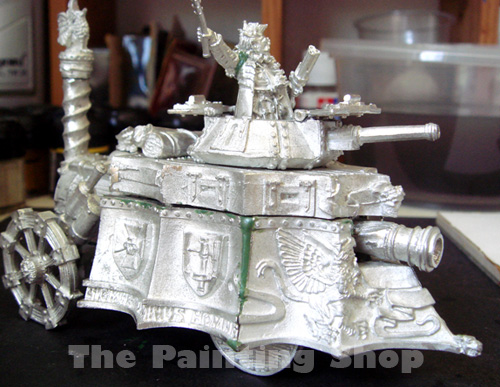 I was thinking of not gluing the cover of the tank, but after I saw the newer version detailed interior, what the hack, decided to just seal the cover permanent and patch  it up green stuff, now let me get back to patching up the more gaps.
Looking forward to get it painted though, but wait, let me finish my Grave Guards first.