Over the holidays long weekend, did some tidying and packing of my painting shop, spring cleaning… haha.
Anyway decided that I wanna continue with my grave guards, trim up the edges and assembled them and base coated them. They will form my unit of 20 grave guards.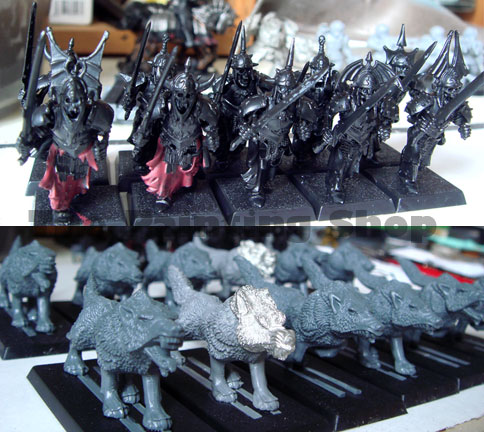 In the midst stuff, saw my wolves, decided to assemble them  up too. I am using the old wolves miniatures for the dire wolves in the vampire count. I dont like the new sculpt for the dire wolves in the vampire range, it looked too naked and fleshy. Just feel that wolves should look like wolves even they are of the dire wolves. I got the old wolves form the Golblin wolves riders. Bought the box, and just wanted the wolves. Anyone interested in the left over goblins, drop me a mail… I had an old blister of dire wolves with the metal head sculpt lying around. Assembled them up, they form the Doom Wolf for the Dire Wolves units.
Now, let me do some research on the colour scheme of wolves… Howl!!!