If you into painting miniatures or getting started, definitely you will need to start a painting station. What is a painting station?
When I first started this hobby, each time I wanted to paint, I need to get ready and plan some time for it. Get a container and filled it with water, get the paper towels ready, take out the paints & brushes…. etc, then the painting can be begin. So each time, when I need to paint I need to set up the painting materials. Sometimes, if you feel like painting, when you think of taking out and setting up the material sort of turn off the mood. Its like, only want paint a while, need set up, then after that must pack up, what  the hack, lets just paint another day,  it happened to me.
I guess I got started into this hobby, I wanted to stay committed to it. I decided to make the hobby and painting process part of my life. I decided to set up a permanent painting station that is always work in progress, and its never closed.
Cleared some space on my work table, spread out the pots of paints, take out the brushes, fill the container with water, gather some paper towel and paper palette, and its ready. When time is up, just simply wash the brushes and leave them on the table. If later the mood kicks in to paint again, simple pick up the brush again, dip into some paint and the painting starts all over again.  In this way, there's no need to think about setting up or packing up, straight away anytime you can paint, cool isn't it? However, if you like to be organized on your work table, unlike my messy painting station you see, you can consider getting Games workshop Painting Station. Or you can try assembling a simple painting station (check it out) to organize your paint pots.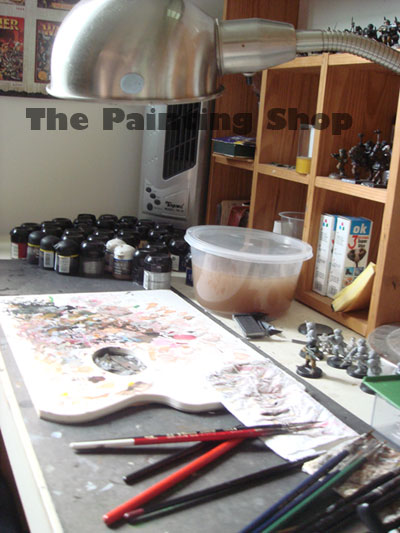 For me, this has been my way of painting life. I squeezed time here and there. Like, sometimes before I head off to work or before I sleep, I would spend 5 – 10  minutes painting, it could be like painting a sword or highlighting an armour.  If the urge or mood is high, I would spend more time painting. Usually my painting time is spread out, which means I dont like sit there for few hours non stop and paint. The longest time in a sited position is an hour. I paint a while, take a break a while, then continue again. This way, its keep the energy alive and the drive to carry on easier.
Now, let me get back to painting. My Vampire Lord is done, what's next?
FOR THE EMPEROR!