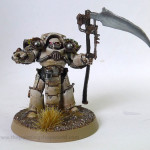 Apologies for the short disappearance. Brushes and paint still goes on in my life journey. Times flies and we are already in the 3rd month of the year 2017.
I have been busy with work and juggling with usual amount of commission projects. Most of my time after work is being spent with paint and brushes. Of recent, I guess these times have been all about commission projects. Just when I finished one, another one comes along nicely. Sure feels like the Emperor is watching, ha ha.
Come to think of it for this year 2017 so far, I have not painted any of my own projects. Guess they always say, customer first, ha ha ha! Cheers!